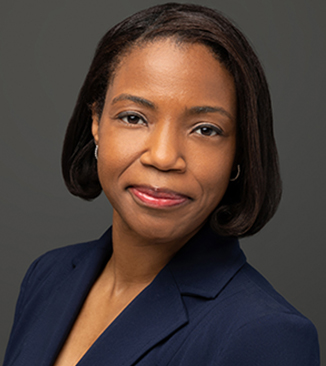 Areas of Clinical Interests
Shoulder and Elbow Surgery
Joint Reconstructive Surgery
Orthopaedic Trauma
Nonunion and Malunion of Fractures
Biography
Dr. Henry is a board-eligible orthopaedic surgeon who specializes in shoulder, elbow and trauma surgery.
Dr. Henry became an orthopaedic surgeon because she earned a master's degree in muscle physiology and was intrigued by the musculoskeletal system. Upon entering medical school, she was fascinated by surgery and enjoyed using her hands. Dr. Henry believes that orthopaedics offers near-immediate gratification as she sees the effects of her labor when fixing a broken bone.
What sets her apart is her exceptional training and how she interacts with patients and improves their quality of life. Dr. Henry is committed to helping patients return to the activities that make their lives enjoyable.
Outside of orthopaedics, Dr. Henry enjoys cycling, photography, traveling, scuba diving and cooking.
Professional Summary
Ability to provide the best possible surgical care to patients with shoulder and elbow impairments as well as trauma injuries.
Ability to prioritize workloads during busy periods for smooth and effective execution of work.
Initiative, excellent communication skills as well as decision making skills necessary for successful orthopaedic practice.
Willingness and flexibility to adjust to, and learn about changing, healthcare environments
Education
Undergraduate
University of Connecticut, Storrs, CT
Bachelor of Science – Molecular and Cellular Biology, May 2001
Graduate School
Northeastern University, Boston, Massachusetts
Master of Science – Muscle Physiology, May 2004
Medical School
University of Rochester School of Medicine and Dentistry, Rochester, New York
Doctor of Medicine, May 2012
Residency
Yale University School of Medicine, New Haven, Connecticut
Orthopaedic Surgery Residency, 2012- 2017
Fellowship
Brown University, Providence, Rhode Island
Shoulder and Elbow Fellowship, August 2017 – July 2018
Nottingham University Hospital, Nottingham, United Kingdom
Trauma Fellowship, September 2018 – February 2019
Employment
Advent Health
Orthopaedic Surgeon March 2019
Honors & Awards
DePuy Synthes Grant for Research - September 2016
J Robert Gladden Orthopaedic Society Resident Research Award, July 2016
Arthur Guinness Fund for Social Entrepreneurship, January 2014 o Humanitarian: to organize Orthopaedic surgery mission trips to provide medical care to underserved populations in Jamaica, W.I.
Timothy L. Stephens Orthopaedic Fellowship, August 2009 to June 2010
Case Western Reserve School of Medicine, Cleveland OH
Journal of Experimental Biology: Outstanding Paper Prize, 2005
Affiliations/Memberships
Teaching Faculty for UCF College of Medicine/Ocala Health Orthopaedic Surgery Program
AO Trauma
Orthopaedic Trauma Association
Robert Gladden Society
Ruth Jackson Orthopaedic Society
American Shoulder and Elbow Surgeons
Presentations
Annual meeting of the Academy of Orthopaedic Surgeons March 6, 2018 – Podium Presentation: Two Accurate and Efficient Methods for Intraoperative Measurement of Femoral Version
Grand Rounds, November 13, 2015 – Understanding Acetabular fractures with a 3-D twist • Grand Rounds, December 19, 2014 – Volunteerism in Orthopaedics
Publications
Packer, J.D., Varthi, A.G., Zhu, D.S., Javier, F.G., Young, J.D., Garver, J.V., Henry, H.T., Tommasini and Blaine, T.A. Ibuprofen impairs capsuloabral healing in a rat model of anterior glenohumeral instability. (2018) Journal of Shoulder and Elbow Surgery. Feb:27(2):315-324
Henry, H.T, Szolomayer, L.K., Sumpio, B.E., and Sutton, K.M. Popliteal artery entrapment syndrome: Bilateral Lower extremity involvement. Orthopedics September 2017
Morris,W.Z, Henry, H.T., Liu,R.W., Streit,J.J., Grant,R.E., and Cooperman D, R. A modified Ogata-Goldsand Technique for simplified intraoperative measurement of femoral version. (2015). J Pediatr Orthop, 35 (6), 593599.
Henry, H.T. and Dennis, J. (2010) Growth Factors influencing Human Articular Chondrocyte Growth and Differentiation. Case Western Orthopaedic Journal. Vol 7. 52 – 57
Rose, R., Ameerally, A., Frankson, M., and Henry, H. (2008). Arthroscopy: Surgical site infections and the need for prophylactic antibiotics. The Internet Journal of Orthopedic Surgery. Volume 10 Number 2
Rubenson, J., Henry, H.T., Dimoulas, P.M. and Marsh, R.L. (2006). The cost of running uphill: linking organism and muscle energy use in guinea fowl (Numida meleagris). J. Exp. Biol. 209, 2395 - 2408
Marsh, R.L., Ellerby, D.J., Henry, H.T. and Rubenson, J. (2006). The energetic cost of trunk and distal limb loading during walking and running in guinea fowl (Numida meleagris) I. Organismal metabolism and biomechanics. J. Exp. Biol 209, 2050 - 2063
Henry, H. T., Ellerby, D. J. and Marsh, R. L. (2005) Performance of guinea fowl (Numida meleagris) during jumping requires storage and release of elastic energy. J. Exp. Biol 208, 3293 - 3302
Ellerby, D. J., Henry, H. T., Carr, J. A., Buchanan, C. I. and Marsh, R. L. (2005). Blood flow in guinea fowl (Numida meleagris) as an indicator of energy expenditure by individual muscles during walking and running. Physiol 564, 631 - 648.
Marsh, R. L., Ellerby, D. J., Carr, J. A., Henry, H. T. and Buchanan, C. I. (2004). Partitioning the energetics of walking and running: swinging the limbs is expensive. Science. 303, 80 – 83
Research Experience
Yale University School of Medicine, New Haven, CT
Orthopaedic Surgery Resident (June 2012 to 2018)
Conducted measurements on preserved femora and cadavers to develop a straight forward and time efficient method of calculating femoral anteversion intra-operatively
Developed software Application program for hand-held devices to calculate femoral anteversion
Case Western Reserve University, School of Medicine, Cleveland, OH
Research Fellow (August 2009 to July 2010)
Designed project to investigate growth factors and conditions for optimization of expansion of human chondrocytes
Investigated production and implantation of tissue-engineered neo-trachea (rabbit auricular chondrocytes cultured to produce a mechanically stable trachea-like tissue).
Learned techniques: chondrocyte cell culturing (procurement of cartilage, thawing, expansion, redifferentiation in bioreactors), phase microscopy, assay for detection and quantification of DNA and GAG, Immunohistochemical staining for Type II and Type IX collagen
University of California San Diego, San Diego, CA
Research Associate - Department of Orthopaedics and Bioengineering (February 2006 to June 2006)
Studied muscular architecture of the lower hindlimb muscles of rabbits, rats and mice
Isolated single muscle fibers and conducted experiments to determine the passive mechanical properties of such fibers
Trained in the use of laser diffraction to determine muscle fiber sarcomere length
Conducted experiments in which muscles from wild-type and knockout animals were electrically stimulated to determine muscle response to eccentric contraction
Utilized confocal microscopy to aid investigation of mechanical properties of wild-type and knockout muscles.
Performed surgical procedures to implant a pressure transducer in rabbit tibialis anterior muscle to investigate the relationship between muscle contractile force and intramuscular pressure
Northeastern University, Boston, MA
Research Assistant, Physiology and Microbiology (September 2001 to August 2005)
Designed project to investigate the biomechanics of jumping in guinea fowl.
Performed surgical implantation of sonomicrometry and EMG electrodes in animal muscles.
Injected microparticles in cardiovascular system of guinea fowl with subsequent monitoring of cardiovascular parameters.
Constructed sonomicrometry and EMG electrodes. Monitored surgical anesthesia
Interests
Photography, SCUBA diving, Cycling, Weight lifting, Cooking, Medical Volunteerism
Havalee Henry, MD, MS
4409 Sun 'N Lake Blvd.
Sebring, FL 33872

(863) 402-3483
You will need the Adobe Reader to view and print these documents.